Kathryn E. Blount
Master of Arts in Education – School Counseling
Licensed Clinical Mental Health Counselor
EMDR Trained
Certified Spinning Instructor
TRX Certified
So let's just get to it:  I've been through some stuff in my life and that "stuff" has made me a better counselor.  I've worked through my stuff and am totally and completely stoked about helping you work through yours.  I understand issues like low self-esteem, trying to figure out who you *really* are, being with less-than-stellar life partners, and trying to please everyone…because I've BEEN THERE, DONE THAT.  And I'm here, on the other side of it all, happy, healthy, and thriving.  You will make it through.  Not only will you make it through, but you will come out as a stronger, empowered, fiercely capable woman, because you are seeking assistance from a pro.  Let's be clear – this is tough work, and I can't and won't do it for you.  But I will be your support and compass along the way.  We'll have some deep talks, and some fun ones, too.  Therapy isn't all "tell me about your problems" – it can be light, silly, relaxing, and always genuine.  There is a big, comfy seat in my office where I invite you to kick off your shoes, curl up your legs, and chat awhile.  Let's figure out your life together.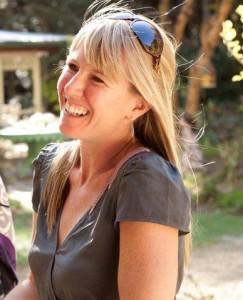 Now, here's the generic info that really doesn't matter but some of you may be interested:  I was born and raised in Charlotte, NC, and moved to the NC mountains in 1993. I received my Bachelor of Science Degree in Psychology from Appalachian State University and my Master of Education Degree in School Counseling from Western Carolina University. I completed 2000+ hours of post-master's clinical supervision in 2008 to become a Licensed Professional Counselor (LPC), now called Licensed Clinical Mental Health Counselor (LCMHC).  I have worked with youth-at-risk and their families since 1999 in both mental health and educational settings. My experience is diverse, holding positions including one-on-one behavioral support specialist; Victim Assistance Coordinator; Intensive In-Home Clinical Lead; Student Response Team Leader; and Student Support Counselor/School Social Worker.  In addition to Asheville Mind & Body, I have been employed as a Student Support Counselor/School Social Worker for Buncombe County Schools since 2005. In this position, I address and help remove road blocks to student success. Common issues addressed include mental health and substance abuse issues, socio-economic challenges, access to appropriate educational placement, threat assessment and safety planning, and crisis response.
I also have a passion for healthy living and physical fitness.  In addition to my background in massage therapy, I was a certified Spinning instructor and taught indoor cycling classes for almost 10 years.  I am also trained in TRX, a body weight strength-building workout.  I thoroughly believe in the mind-body link and advocate for utilizing body movement to address myriad mental and emotional obstacles.
When I'm not helping others be their most bad-ass selves, you can find me in the woods or on a river with my husband and my two rescue mutts, Pearl and Sprout.
—
North Carolina Licensed Clinical Mental Health Counselor (since 3/7/2008) License #6934 through North Carolina Board of Licensed Clinical Mental Health Counselors (NCBLCMHC)
EMDR Trained since May 2017
School Counseling License (K-12) issued by NC DPI (since 12/2005)
Licensed Massage and Bodywork Therapist (LMBT) #1486 (1999-2017)
Certified Madd Dogg Spinning Instructor since 2012
TRX Trained since 2016